News and Announcements
News and announcements
09.11.2016: SyNergy Advanced Postdoc Award to Saskia Hutten
Saskia Hutten receives "Advanced Postdoc Award" of the Munich Cluster for Systems Neurology (SyNergy), providing seed funds for a new independent research project.
21.05.2016: ENCALS Young Investigator Award (Silver Medalist) to Dorothee Dormann
At the ENCALS (European Network to cure ALS) meeting in Milano, the ENCALS award committee acknowledged Dorothee Dormann as Silver medallist for the ENCALS Young Investigator Award 2016. The ENCALS young investigator award was designed to recognise the brightest and best young scientists in ALS, and is given for outstanding research. It is judged by the ENCALS award committee, an international panel of experts.
01.01. 2016: Hans und Ilse-Breuer PhD scholarship
Helena Ederle receives a two-year PhD scholarship by the Hans und Ilse Breuer Foundation. The scholarship is awarded for outstanding performances and promotes a young generation of scientists in the field of Alzheimer and dementia research in Germany.
24.02.2014: Heinz Maier-Leibnitz Award for Dorothee Dormann
Dorothee Dormann has been awarded the 2014 Heinz Maier-Leibnitz Prize of the DFG (Deutsche Forschungsgemeinschaft) for her work on cellular and molecular mechanisms of neurodegenerative diseases. The award is recognized as the most important prize for early career researchers in Germany. Dorothee Dormann and nine other recipients of the award were presented with the prize of 20,000 euros on 12 May in Berlin.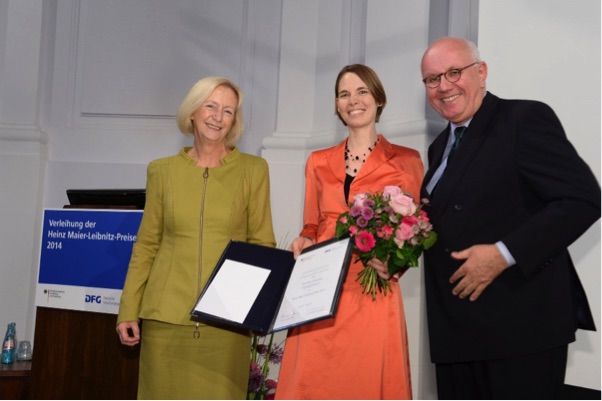 Related Links