News & Events
15.10.2015
"New DFG-Research Unit FOR2333 with Professor Dierk Niessing als speaker funded (vice speaker: Professor Ralf-Peter Jansen, University of Tübingen). Within this Research Unit on "mRNA localization" 3 out of 8 projects are awarded to our department (Niessing and Kiebler labs).
https://www.uni-muenchen.de/forschung/news/2015/niessing_dfggruppe.html
27.07.2015
1. News:
Congratulations to Rico Schieweck for obtaining a Boehringer Ingelheim Fellowship. The PhD student fellowship will allow Rico to do study the translational landscape at mammalian synapses in health and disease. In particular, Rico will investigate the role of the translational regulator Pumilio 2 at the synapse. Well done Rico!
15.07.2015
2. News:
The Department of Neuronal Cell Biology moved this week to the newly opened BioMedical Center in Martinsried. We are all excited to do top notch science in this fantastic new environment at the newly created LMU Campus. Of course, this was an excellent excuse to celebrate, see pictures of our leaving party at the terrace of Schillerstrasse!
01.04.2015
The Department warmly welcomes Professor Dierk Niessing as its newest faculty member!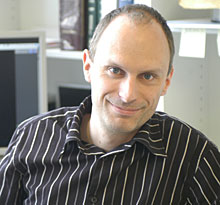 25.02.2014
Emmy Noether Nachwuchsgruppenleiterin Dorothee Dormann ausgezeichnet


http://www.uni-muenchen.de/forschung/news/2014/dormann.html
07.01.2014
Press Release (in German): Nervenzellen - Die Logistik des Lernens
http://www.uni-muenchen.de/forschung/news/2013/f-71-13_kiebler_nervenzellen.html