News & Events


Wir trauern um unser hochverehrtes Mitglied unserer Abteilung, Prof. Walter Neupert, der am 22. Juni kurz vor seinem 80. Lebensjahr von uns gegangen ist. Bis zuletzt leitete Prof. Neupert aktiv und höchst erfolgreich eine Forschungsgruppe an unserem Lehrstuhl. Hiermit schloß sich der Kreis, da er vor mehr als 25 Jahren zusammen mit Hubert Burda und dem damaligen Dekan, Prof. Dr. Klaus Peter, die Vision für ein hervorragendes Forschungsumfeld, dem heutigen Biomedizinischen Zentrum, in Martinsried prägte.
Die Nachricht vom Tod Professor Walter Neuperts am 22. Juni erfüllt uns mit tiefer Traurigkeit. Wir verlieren einen überragenden Wissenschaftler, einen beeindruckenden Mentor und besonderen Menschen. Unsere Gedanken sind bei seiner Familie.

It was with great sadness that we learned of the death of Prof. Walter Neupert today. We are losing a prominent and highly esteemed colleague, an eminent scientist, a highly respected mentor and a wonderful human being. Walter was working until now in the Department, always being accessible to all of us. This gave Walter great satisfaction to see that his vision – together with Hubert Burda and the dean at the time, Prof. Klaus Peter, of a new Biomedical Center more than 25 years ago became reality. Our thoughts are with his family.
12.08.2019
Congratulations, Paolo and Sabine (and all coauthors), to your paper in the Journal of Cell Science!
Paolo and his PhD student Bouchra discovered a new and unexpected role of a nuclear pore component, termed Nup358, which appears to be independent of nuclear transport! Nup358 is found in the cytoplasm of nerve cells, where it interacts with ankyrin-G at the axon initial segment.
Well done, Paolo! This is our 20th paper together!
09.08.2019
Welcome to Prof. Jovica Ninkovic, the new Professor in the Department!

We are pleased to announce that Jovica Ninkovic has been appointed as Professor of Regeneration and Plasticity of the CNS today and that he has accepted the offer today. Jovica has been acting as Vertretungsprofessor since early 2018 with outstanding success in the Medical Faculty. Jovica and his team bring new expertise to the Department, namely neurogenesis and novel strategies for brain repair and regeneration. We are looking forward to continuous and lively interaction with his young and enthusiastic research team!
27.06.2019
Congratulations, Karl (and all coauthors), to your Nature Communication paper!
In close collaboration with Edouard Bertrand (IgMM, CNRS, Montpellier) and Rob Singer (Albert Einstein College, USA), we performed live cell imaging using a much improved MS2 system to reveal 3'-UTR dependent mRNA sorting to synapses. Karl could demonstrate dynamic mRNA recruitment to active synapses thereby providing strong experimental support to the Sushi belt model for RNA trafficking in neurons. Furthermore, Karl's work represents a milestone in unraveling the molecular mechanisms representing a first molecular correlate of learning and memory at the synaptic level.
22.11.2017
Here is a article about Staufen2 Rat in Genome Biology.
http://www.uni-muenchen.de/forschung/news/2017/kiebler_gedaechtnis.html
07.11.2017
Here is the newest article from Prof. Neupert in CELL.
http://www.uni-muenchen.de/forschung/news/2017/neupert_mitochondrien.html
27.07.2017
EMBO Poster prize to Teja Sharanghdar.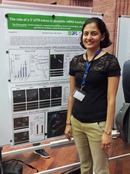 Teja presented the results of her poster on the activity-dependent dendritic localization of Calm3 mRNA as a 5min flash talk this week on the EMBO conference RNA localization and translation in Barga, Tuskany, Italy. The organizers selected her as one of the poster prize winners. Excitingly, this will be also highlighted later on the EMBO website.
Congratulations, Teja!
05.07.2017
The role of a 3'-UTR intron in dendritic mRNA localization.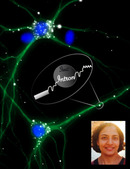 In close collaboration with Jernej Ule (The Crick Institute & UCL, London, UK), we identified significantly enriched Stau2-binding to the 3'-UTR of 356 mRNAs. Interestingly, some of these introns retained in the transcript upon its cytoplasmic localization to dendrites. In conclusion, we identify a retained intron as critical element in recruiting Stau2 in order to achieve its transport to synapses.
Congratulations, Teja to your EMBO Reports paper!
17.12.15
POSTER (Heinrich Leonhardt, PD Dr. Annette Müller Taubenberger)
15.10.2015
"New DFG-Research Unit FOR2333 with Professor Dierk Niessing als speaker funded (vice speaker: Professor Ralf-Peter Jansen, University of Tübingen). Within this Research Unit on "mRNA localization" 3 out of 8 projects are awarded to our department (Niessing and Kiebler labs).
https://www.uni-muenchen.de/forschung/news/2015/niessing_dfggruppe.html
27.07.2015
1. News:
Congratulations to Rico Schieweck for obtaining a Boehringer Ingelheim Fellowship. The PhD student fellowship will allow Rico to do study the translational landscape at mammalian synapses in health and disease. In particular, Rico will investigate the role of the translational regulator Pumilio 2 at the synapse. Well done Rico!
15.07.2015
2. News:
The Department of Neuronal Cell Biology moved this week to the newly opened BioMedical Center in Martinsried. We are all excited to do top notch science in this fantastic new environment at the newly created LMU Campus. Of course, this was an excellent excuse to celebrate, see pictures of our leaving party at the terrace of Schillerstrasse!
25.02.2014
Emmy Noether Nachwuchsgruppenleiterin Dorothee Dormann ausgezeichnet


http://www.uni-muenchen.de/forschung/news/2014/dormann.html
07.01.2014
Press Release (in German): Nervenzellen - Die Logistik des Lernens
http://www.uni-muenchen.de/forschung/news/2013/f-71-13_kiebler_nervenzellen.html