News & Events
22.11.2017
Here is a article about Staufen2 Rat in Genome Biology.
http://www.uni-muenchen.de/forschung/news/2017/kiebler_gedaechtnis.html
07.11.2017
Here is the newest article from Prof. Neupert in CELL.
http://www.uni-muenchen.de/forschung/news/2017/neupert_mitochondrien.html
27.07.2017
EMBO Poster prize to Teja Sharanghdar.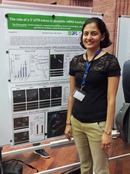 Teja presented the results of her poster on the activity-dependent dendritic localization of Calm3 mRNA as a 5min flash talk this week on the EMBO conference RNA localization and translation in Barga, Tuskany, Italy. The organizers selected her as one of the poster prize winners. Excitingly, this will be also highlighted later on the EMBO website.
Congratulations, Teja!
05.07.2017
The role of a 3'-UTR intron in dendritic mRNA localization.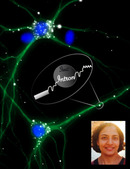 In close collaboration with Jernej Ule (The Crick Institute & UCL, London, UK), we identified significantly enriched Stau2-binding to the 3'-UTR of 356 mRNAs. Interestingly, some of these introns retained in the transcript upon its cytoplasmic localization to dendrites. In conclusion, we identify a retained intron as critical element in recruiting Stau2 in order to achieve its transport to synapses.
Congratulations, Teja to your EMBO Reports paper!
17.12.15
POSTER (Heinrich Leonhardt, PD Dr. Annette Müller Taubenberger)
15.10.2015
"New DFG-Research Unit FOR2333 with Professor Dierk Niessing als speaker funded (vice speaker: Professor Ralf-Peter Jansen, University of Tübingen). Within this Research Unit on "mRNA localization" 3 out of 8 projects are awarded to our department (Niessing and Kiebler labs).
https://www.uni-muenchen.de/forschung/news/2015/niessing_dfggruppe.html
27.07.2015
1. News:
Congratulations to Rico Schieweck for obtaining a Boehringer Ingelheim Fellowship. The PhD student fellowship will allow Rico to do study the translational landscape at mammalian synapses in health and disease. In particular, Rico will investigate the role of the translational regulator Pumilio 2 at the synapse. Well done Rico!
15.07.2015
2. News:
The Department of Neuronal Cell Biology moved this week to the newly opened BioMedical Center in Martinsried. We are all excited to do top notch science in this fantastic new environment at the newly created LMU Campus. Of course, this was an excellent excuse to celebrate, see pictures of our leaving party at the terrace of Schillerstrasse!
25.02.2014
Emmy Noether Nachwuchsgruppenleiterin Dorothee Dormann ausgezeichnet


http://www.uni-muenchen.de/forschung/news/2014/dormann.html
07.01.2014
Press Release (in German): Nervenzellen - Die Logistik des Lernens
http://www.uni-muenchen.de/forschung/news/2013/f-71-13_kiebler_nervenzellen.html